Catholic Charities USA owes its formation to a man with close ties to Omaha. Msgr. John O'Grady, born in Ireland in 1886, served in residence at Omaha's St. Bridget's Parish before becoming assistant pastor at St. Cecilia's Cathedral and associate editor of The True Voice (the diocesan newspaper later renamed The Catholic Voice).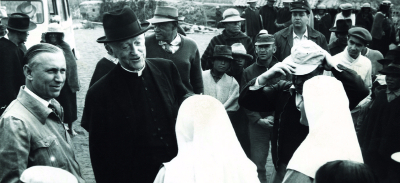 Upon receiving his Ph.D. from The Catholic University in 1915, Msgr. O'Grady began a career as a pioneer of social work. He trained countless social workers to offer highly specialized services as well as addressing the breakdown of family life in America.
Msgr. O'Grady had a deep understanding of the importance of addressing mass poverty and he worked tirelessly with national political leaders to do so. His efforts contributed to the passage of the Social Security Act, Old Age Insurance, Unemployment Compensation, Aid to Dependent Children, Aid to the Blind, the Housing Act of 1937, National Housing Act of 1949 and many other policies intended to improve the social and economic conditions of those in poverty.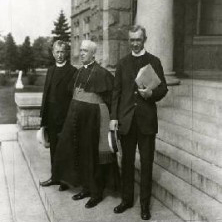 He also strongly believed in neighborhood self-help. He advocated for community organization and created many of the concepts still used today in the anti-poverty campaign. Upon Msgr. O'Grady's retirement in 1961, Bishop William O'Connor of Springfield, IL, said, "His profound scholarly interest and concern were surpassed by his personal approach and involvement in every problem of the poor."
©2010 Catholic Charities USA
Source: ... Faith ... Works ... Wonders
© 2001 Catholic Charities of Omaha, Monsignor William L. Kelligar