Three times a week local seniors come together at the Saint Martin de Porres Center to improve their lives through education, physical activity and community involvement. 
Catholic Charities educates the group on issues and challenges impacting seniors today, including Medicare, Social Security, fall and accident prevention, financial management, tax preparation, and numerous health issues.  We also stress the importance of community involvement and encourage seniors to become advocates for themselves and others.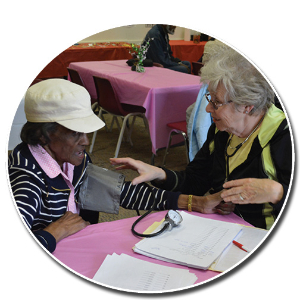 PROGRAMS OFFERED
Walking Club
Blood Pressure Checks
Eye Care Presentations
Health Education
Cancer Survivor's Group

The senior program at the Saint Martin de Porres Center proudly continues to grow and embrace opportunities to involve more seniors throughout the community.
OUR LOCATION
Saint Martin de Porres Center
2111 Emmet Street
Omaha NE 68110
Phone 402-453-6363
Fax 402-934-5313
CONTACT INFORMATION
Program Director
Carrie Walter
CarrieP@ccomaha.org
402-342-4566
EVENTS CALENDAR